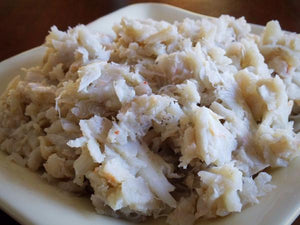 Lump Crab Meat
Regular price $24.99 (1 lb. Pack) Sale
Click for availability Info
1 lb. per Package
Blue Swimmer Crab
Large Lump Pieces
Perfect for Crab Cakes or Salads
Wild Caught. Product of Southeast Asia.
Blue Swimmer Crab - Perfect for making crab cakes, salads, crab imperial or any other recipe that calls for crab meat. This is a sweet tasting crab with a hearty texture and has a lovely white appearance. Use this crab when appearance is important like in salads and more. It is NOT pasteurized canned crab meat. Jumbo lump crab meat is a premium grade of crab and consists of large, lumps of delicious crab. It is cooked, extracted from the shell and frozen.  Jumbo lump crab meat is a much better quality than typical pasteurized crab meat.