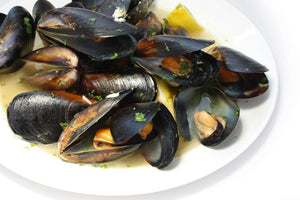 Mussels in Garlic & Butter
Regular price $5.99 $2.99 1 lb. Bag Sale
Click for availability Info
15 to 20 Mussels Per Pack
Harvested in Newfoundland
Product of Canada
Pre-Cooked & Vacuum Packed
Easy to boil pouch, just drop in water and reheat
Description

Ingredients 

Allergy

Cooking
An exceptional seafood item harvested in the clean, clear waters of Newfoundland, Canada. Certified organic, these Mussels are rope grown and naturally fed, allowing uniform sizing, clean shells, and product with limited grit. Prince Edward Garlic Butter Mussels come fully cooked and flavored. These mussels are perfect steamed as well as used in other applications such as bisques, soups, chowders, paellas, pastas and salads. This superior quality product gives you the quality of fresh Mussels with greater convenience!
Organic Mussels, Butter, Water, Organic Garlic, Parsley & Organic Concentrated Lemon Juice
HEAT FROM FROZEN. DO NOT THAW PRODUCT

PRO TIP: Mussels are best when tender and like most seafood, taste and texture suffer when overcooked. Do not overcook. Steam: Cut open the bag and empty frozen contents into a large pot. Cover and heat on high for 5 minutes*.

Microwave (700 Watt): Puncture a small hole in the middle of the back of the bag. Lay bag in the microwave with the back facing up. Cook on HIGH power (100%) for 5 minutes*.

Caution when opening, contents will be very hot.